"She was a hard worker--willing to put in hours for us at inconvenient times sometimes. She was honest with integrity and just did not feed us what she thought we wanted to hear."
Posted by Karen Heet on Thursday, November 2, 2023 at 11:30 AM
By Karen Heet / November 2, 2023
Comment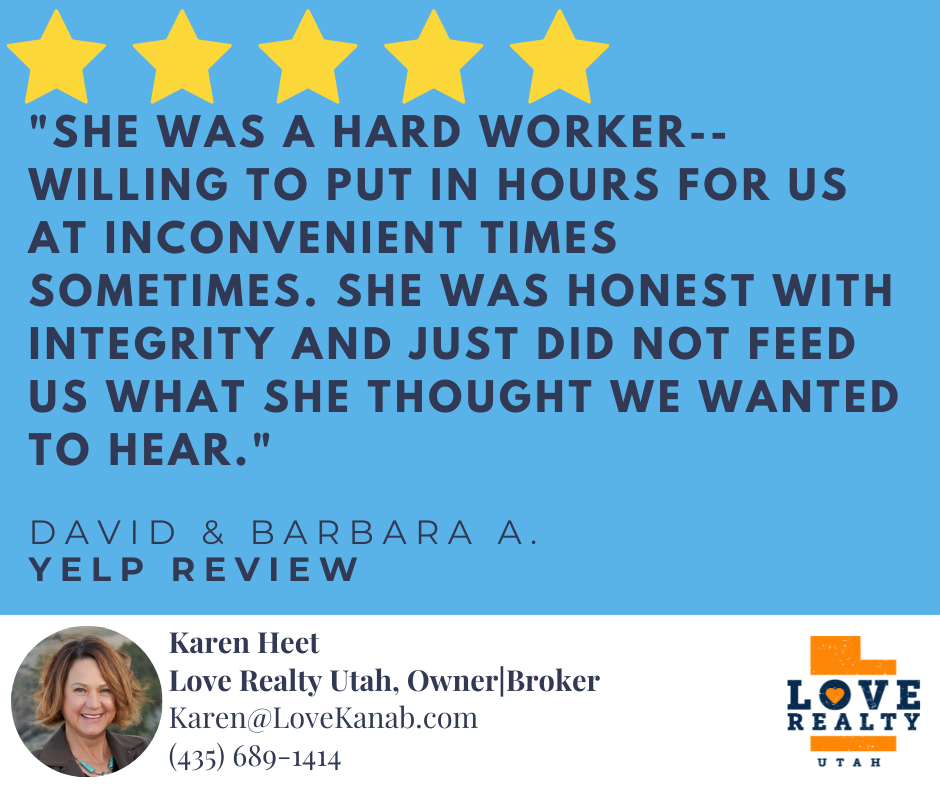 "We know Karen only as our realtor for selling our house the summer of 2023. 𝐒𝐡𝐞 𝐰𝐚𝐬 𝐚 𝐡𝐚𝐫𝐝 𝐰𝐨𝐫𝐤𝐞𝐫--𝐰𝐢𝐥𝐥𝐢𝐧𝐠 𝐭𝐨 𝐩𝐮𝐭 𝐢𝐧 𝐡𝐨𝐮𝐫𝐬 𝐟𝐨𝐫 𝐮𝐬 𝐚𝐭 𝐢𝐧𝐜𝐨𝐧𝐯𝐞𝐧𝐢𝐞𝐧𝐭 𝐭𝐢𝐦𝐞𝐬 𝐬𝐨𝐦𝐞𝐭𝐢𝐦𝐞𝐬. 𝐒𝐡𝐞 𝐰𝐚𝐬 𝐡𝐨𝐧𝐞𝐬𝐭 𝐰𝐢𝐭𝐡 𝐢𝐧𝐭𝐞𝐠𝐫𝐢𝐭𝐲 𝐚𝐧𝐝 𝐣𝐮𝐬𝐭 𝐝𝐢𝐝 𝐧𝐨𝐭 𝐟𝐞𝐞𝐝 𝐮𝐬 𝐰𝐡𝐚𝐭 𝐬𝐡𝐞 𝐭𝐡𝐨𝐮𝐠𝐡𝐭 𝐰𝐞 𝐰𝐚𝐧𝐭𝐞𝐝 𝐭𝐨 𝐡𝐞𝐚𝐫. She cared about us as people and not just for the money she could make. She had good relationships with other realtors. She had a consistently good attitude and personality. She was the kind of person we would value as a friend and neighbor too.
I also must say that the couple she used to photograph our home did a superb job. They too were efficient, caring people that took a great deal of pride in their excellent work.
God Bless Karen and her photographers."
- David and Barbara Anderson, Yelp Review