First Time Home Buyer Seminar in Kanab, UT - Your Guide to Homeownership
Posted by Karen Heet on Tuesday, June 27, 2023 at 2:29:27 PM
By Karen Heet / June 27, 2023
Comment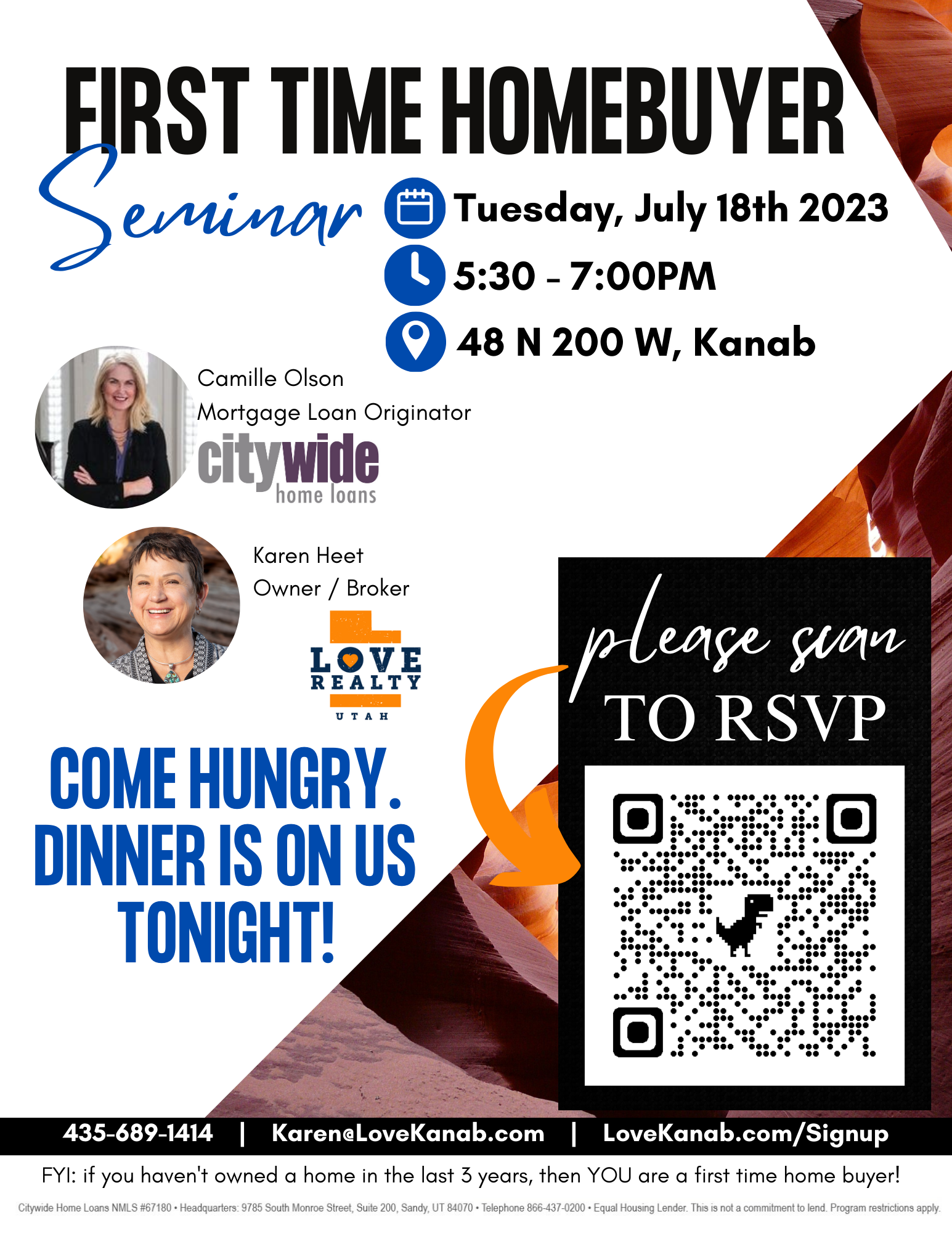 Are you a first-time home buyer in Kanab, Utah? Haven't owned a home in 3 or more years? If you have questions about the home buying process, mortgage affordability, and loan qualifications, we have the perfect event for you! Join us at the First Time Home Buyer Seminar in Kanab, UT, on July 18 at 5:30pm. This informative seminar will provide you with essential knowledge and expert insights to help you make informed decisions as you embark on the journey of homeownership.
During this seminar, you will have the opportunity to learn from industry expert Camille Olson of Citywide Home Loans. With her extensive knowledge and experience, she will address common questions that many first-time home buyers have, such as:
How much mortgage can I afford? Gain insights into calculating your budget and determining a comfortable mortgage payment based on your financial situation.

What do I need to qualify for a loan? Discover the key factors that lenders consider when evaluating loan applications and understand the requirements for securing a mortgage.

Should I get a fixed rate or adjustable rate mortgage? Learn the pros and cons of fixed-rate and adjustable-rate mortgages, allowing you to make an informed decision based on your long-term financial goals.

What is PMI (Private Mortgage Insurance)? Understand the concept of PMI and how it affects your mortgage, including when it is required and strategies to potentially avoid it.

Should I get a 15 or 30-year mortgage? Explore the differences between 15-year and 30-year mortgages, considering factors such as interest rates, monthly payments, and overall interest costs.

How much should I put down? Discover various down payment options and the impact they have on your mortgage terms, monthly payments, and overall financial position.

What are mortgage points? Learn about mortgage points and how they can potentially lower your interest rate, saving you money over the life of your loan.

Will I have to pay closing fees? Get insights into the closing process, including an overview of typical closing fees and how to prepare for this important stage of the home buying process.
Don't miss this valuable opportunity to gain knowledge, clarify doubts, and prepare yourself for the exciting journey of homeownership. RSVP to [email protected] to reserve your spot at the First Time Home Buyer Seminar. We kindly request your RSVP for catering purposes, ensuring we have enough food to accommodate all attendees!